JET BOATING: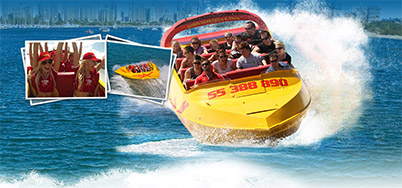 The Gold Coast's Largest & Most Powerful Jet Boat Adventure in the heart of Surfers Paradise
Just walk on down and set yourself on an amazing, high speed, 55 minute Jetboat adventure! Jump aboard the 5 star boats with comfy padded seats while the jet-powered turbo engines take you on speeds up to and over 80km/h.
Gold Coast Jet X's highly experienced drivers will take you on the ride of your life in their extreme playground, with spins and slides as you tear around our great sandbanks along the Broadwater & Gold Coast Seaway.
You may even spot a dolphin or two racing alongside the boat. It's a fun ride for the whole family.
Prices
55 minute jet boat thrill ride on the Gold Coast Broadwater.
Adult: $55.00
Child: $38.00 (4 years or 100cm up to 14 years)
Family: $150.00 (2 adults + 2 children)
Group Jet Boat Hire
14 Seater $685.00 (approx. $48.90 pp)
18 Seater $875.00 (approx. $48.60 pp)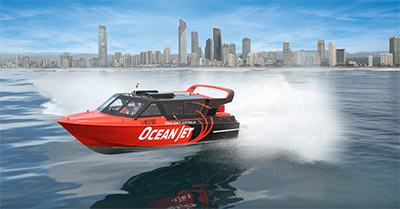 The real fun starts with Ocean Jet when 880 hp twin jet-power turbo engines deliver speeds up to 90 mph - out in the ocean!!
Yet all this in the comfort of specially designed racing seats. You are buckled in ready for the speed and fun of a lifetime experience. The highly experienced drivers giving you all the fun in our extreme ocean.
Prices
Adult (over 15) $79
Child (10-14) $64