Whale Watching Gold Coast
Welcome to the 2014 Whale Watching Season.
It's going to be a whale of a season.
Be the first to join Boat Charters Gold Coast Whale Watching for the journey of a lifetime!

Whale Watchers last year experienced a truly spectacular season with muggings, spy-hopping, numerous tail & chin slaps, and countless breaches!

Just magnificent! Just breathtaking! Check out our Whale Watching Gold Coast Adventure Tours and choose a Whale Watch thats suits you.

Boat Charters Gold Coast is a family run business with a passion for Humpback Whales and as such we provide a number of unique whale watching experiences on the Gold Coast. We give you a number of options to suit your whale watching needs.
Boat Charters Gold Coast - Whale Watching Adventure 1
Get up close - personalised VIP experience!

Boat Charters Gold Coast Whale Adventures are the most unique whale watching experience you can have;-



Step on board our award winning eco-tourism vessel for the experience of a lifetime, with a 360 degree water level viewing deck no other vessel can get you closer to these magnificent creatures and with a maximum of only 20 guests you are guaranteed a more professional and personalised service.
We are also the most environmentally friendly Whale Watching vessel on the coast with our on-board waste treatment system, and we use the latest Yamaha outboard motors which are the most fuel efficient and low emission engines of their kind available today. Being the newest and fastest vessel of the Gold Coast whale watching fleet we can travel at more than twice the speed of the older vessels so you spend more time with the whales and less time in transit.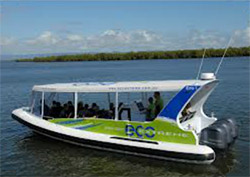 Our specially built boat "Eco 1" has been designed to keep you as dry and warm as possible within the realms of the day we go out. However for our customers who feel the cold we recommend that you bring some wind proof outer layers just in case.
"Eco 1" has pull down side clears if the weather turns, but we try to keep them up as much as possible to allow you to enjoy these beautiful natural elements.
OUR TOURS
Departs right in heart of Surfers - 9am,12 & 3pm
Optional departures Mariners Cove Marina (free parking) - 9.15am, 12.15pm & 3.15pm.
Climb aboard our custom designed 900HP RIB "ECO 1". Let's Go!
You can contact us for all times and availability
Vip personalised experience
Low numbers only 20 passengers no crowds
100% sightings guaranteed*
Fastest whale boat in queensland
3 x 300 hp high performance - new boat - awesome!
Dont waste time travelling - spend it with the whales
Personalised tour host with informative commentary
Real water level viewing - get close and personal
Bonus free canal cruise homes of rich and famous
Total marine experience - whales, dolphins/sea turtles in the wild
Boat Charters Gold Coast Whale Watching Adventure 1 - PRICE - $99 PER VIP EXPERIENCE
Boat Charters Gold Coast - Whale Watching Adventure 2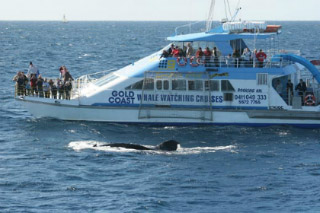 Each trip aboard this purpose built 24 meter Power Catamaran whale watching vessel is a journey of a life time.
We aim to make your whale watching cruise a truly memorable experience. As one of the pioneers of Whale Watching on the East Coast of Australia, our Gold Coast location allows you to enjoy the longest Whale Watching Season in Australia from June to early November each year.
Scan the high seas for these gentle giants. You wouldn't want to miss one pectoral fin, breach or tail slap as these mighty beasts lurch from the waves before your eyes. With a flash and a splash that massive mammal may be gone, but your eyes and camera have caught the truth – a 40-tonne migrating humpback whale just metres away from your catamaran. This awe-inspiring experience is yours.
Boat Charters Gold Coast Whale Watching Adventure 2 - PRICING
Adults $89
Snrs / Student $75
Child (under 12) $50
Family (2 Adlt 2 Chld) $220